Cuba Gooding Jr -- EX Fan Website
Just like the header of this page, Cuba Gooding Jr's movie career is on fire... as in going down in flames.
April 22, 2014
Time for rehab for Cuba Gooding Jr.?
Cuba Gooding Jr.'s wife files for separation - Now would be a good time for rehab.
Cuba Gooding Jr.'s wife filed for divorce in response to his cheating - Now would be an even better time for rehab!
Cuba, your drinking and allegedly borderline rapist behavior is now buying half as much time with your kids.
Too harsh? Too true?
Also, you are not a very good role model for Born Again Christians.
January 18, 2014
News Flash - Cuba Gooding Jr., STILL a jerk
No surprise at this headline. Cuba, you are a content machine. I just can't stop writing paragraphs about you. Since you say it only matters how many paragraphs they write about you, I guess you are a very lucky man.
Cuba GooDRINKing Jr. strikes again. This time in front of ALL his peers and in front of millions of TV viewers.
The E! News headline says it all "Happy MLK! Cuba Gooding Jr. Rushes Ben Affleck Onstage and Closes the SAG Awards With a Wild, Unexpected Bang" and you can see Cuba GooDRINKing Jr.'s stupid, and I assume drunk YET again, antics here.
Don't be a fool Cuba, get some help and make your friends and family proud. Check into rehab! or maybe the last words people write about you will be on your tombstone.
The Good and the Bad, Cuba Gooding Jr.
January 17, 2014
The Good
If you look at my post from just three days ago, I made the mistake by starting out with this sentence "Looks like Cuba has cleaned up his act a bit." Well... that didn't take long for him to screw it up with his most recent inappropriate, childish and disrespectful behavior, on camera yet again.
I'll start off with a great interview he did with Huffington Post interviewer Alyona Minkovski (video below) that I watched just a couple hours before discovering his drunken (I think I can safely assume) interview.
(I wrote a draft of this earlier today BEFORE I watched the second interview posted below)
Life of a King movie (opens today) actually looks like a good movie... loosely based on a true story of a prison inmate who becomes a school teacher and teaches his students how to play chess.
Cuba starts out this interview (aired January 15) as an articulate, seasoned movie industry veteran and professional. When he speaks without playing the fool, he is bright and engaging.
About 4:30 minutes in the conversation turns to The Butler, the so so, VERY VERY loosely based on a true story movie about a long time White House butler. (Spoiler alert... most of what
happens in the movie DID NOT happen in real life).
Then they talk about industry awards, African American roles in films, Saturday Night Live and the two new African American women Players... Cuba does know the movie industry.
At 11:30 minutes she asks Cuba a great question, she asks if he is happy with his career and he actually gives a great answer about how he needed to do all those straight to DVD jobs so he could choose the director, sit in on editing etc. He says "I think I am where I am supposed to be". He seemed sincere but he is a good actor. He could be lying to himself or trying to convince himself that he did the DVD movies by choice, not because of his drinking problem.
He said he is excited about the work again and his recent jobs and interviews reflect that.
At 12:15 minutes they start talking about social media. At 12:30 minutes I was surprised to hear that Alyona asked him about this site, CubaGoodingJr.com. She tells him she has the site pulled up and the show cuts to a screen shot of this website.
Cuba sees the header with flames and the EX Fan Website slogan and laughs as if he has never seen the site before.
To this point, Alyona was doing a good job of engaging Cuba but then Alyona gets kind of stupid saying that the person who owns the domain name AlyonaMinkovski.com wants to "destroy her".
Alyona, I hate to ruin your lie but the site is dead and never had any content. You were doing so well up to this point when you starting pandering to Cuba... and as if this site, CubaGoodingJr.com wants to "destroy" him. This website is a factual reflection of Cuba's "work" on screen and off screen.
The only person trying to destroy Cuba Gooding Jr. is Cuba Gooding Jr..
Then he tells her not to worry about that. Just "count the paragraphs" and "the more they say, the more they are talking about you". Well Cuba, you have plenty of paragraphs on this site. I guess I can assume then you are happy with our work here?
The rest of the interview goes well. Cuba is comfortable with good interviewers like Alyona and Charlie Rose but put him near alcohol and his idiot alter ego almost immediately overcomes him and he turns into a jerk.
The Bad
Visit this People.com link (will open in a new window) to see the two videos to see Cuba make a complete ass out of himself.
Both videos show him on Watch What Happens Live host Andy Cohen and fellow guest Queen Latifah on the Bravo show. Granted this is a stupid show... WAY below Queen Latifah's stature, but right in the wheelhouse of Cuba Goodrinking Jr.'s low moral quality (at least when he is drunk or playing the fool).
Video One
The first clip shows him taking his pants off so he can put on a robe. How exciting.
Then he is sitting in the chair with his naked legs open saying the profound words "I'm in a robe. I'm in a motherFing robe".
Scroll down on that page to find the second video.
Video Two
Andy asks Cuba several "fun" questions about working with and kissing Dame Helen Mirren. The last one being "What does Helen Mirren's breath smell like?" A stupid question from a stupid host on a stupid show so I guess one should expect a stupid answer.
Well, here it is; Cuba's answer at 41 seconds is...? "My penis".
He immediately says he is kidding but the damage is done. The damage is done but not over. Who wants to work with this guy? He is a time bomb.
Cuba, you drink when you work means you are a FUNCTIONING ALCOHOLIC. There I said it. Do you want to correct me or maybe sue me for libel?
Maybe it's time to STOP drinking and kill off that immature, physically and (allegedly) sexually abusive alter ego of yours.
I started becoming a fan again in 2013 with your Charlie Rose interview, success on Broadway and move from California but you blew that with your stupid behavior.
Maybe it's time to get some help for your drinking. If not for yourself, your career or your fans, do it so your kids don't grow up with a drunk father... or worse, without a father.
Did I write enough paragraphs about you?
Getting out of California
January 14, 2014 - Looks like Cuba has cleaned up his act a bit. I have not read about his childish and physically abusive drinking stunts and looks like he is selling his California real estate and thinking about moving to New York City.
Who knows, maybe Cuba has a shot at a comeback with Life of a King. Maybe he learned a few things from being in the movie. Let's see if he shows up on Jimmy Fallon and how he acts... elder statesman or childish man-boy? Release date is January 17.
Articulate and Entertaining
June 7, 2013 - I'll give credit where credit is due. Cuba Gooding Jr was articulate, entertaining and best of all, sober for his interview with Charlie Rose last night. Well done Cuba. Maybe you needed to get out of LA.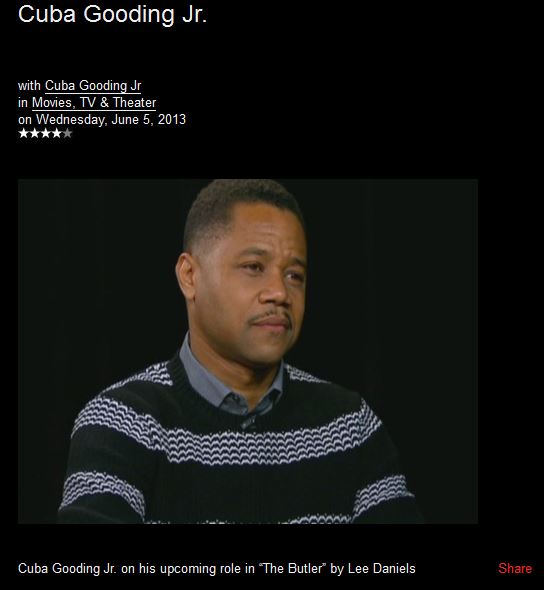 April 24, 2013 - Trip to Bountiful with Cuba Gooding Jr.
So, the long awaited Trip to Bountiful play opened on Broadway yesterday and of course Cuba's mouth has something to say about it...
Cindy Adams from the New York Post writes about Cuba's long trip where he starts off with some sane comments:
"My post-Academy Award years weren't great choices for me as an artist. It's been a problem. Caught in the trappings, that private-jets way of life, I had to deal with my stubbornness and the fame hype. I picked low-budget films. Now I have to think of the craft and relearn, re-engage my creative juices.
"I've had ups and downs, but it afforded me respect. No matter if I slid or how bad those other movies I made, I can still say, 'Yeah, but I got an Oscar.'"
Cuba, a native from the Bronx, goes on to say that he and his family are thinking about moving to Manhattan from California.
but then he goes into his usual brain fart mode:
He goes on to talk about the former politician Anthony Weiner for some reason and then he compares Weiner to Obama... "Like Obama, the man's never had a trade."
Cuba continues with his usual stupid comments with this statement "As for the big Weiner: God in all His wisdom gave man a brain and a penis. Unfortunately, only enough blood to run one at a time."
What a classy guy. Way to go Cuba. I'm sure your cast mates are very proud. Why does Cuba have to taint EVERY interview or public appearance by saying or doing something stupid?
Theater Reviews
Overall, the reviews are positive about the play and the cast but for Cuba, not so much.
Matt Windman of AM New York: Cuba Gooding Jr., who is making his professional stage debut, stresses Ludie's boyish persona, but looks ill-at-ease compared with his colleagues.
Ben Brantley of the New York Times: The appealing Mr. Gooding is too perky and boyish to convey the crushed spirit of Ludie, Carrie's son.
Joe Dziemianowicz of the New York Daily News: Cuba's performance with Vanessa Williams came off as "very tinny".
David Rooney of the Hollywood Reporter: "Gooding's lack of stage experience initially shows in the effort" he puts into this role.
Charles McNulty, Los Angeles Times Theater Critic says Cuba is "the weak link in the cast. What he brings in name recognition he takes away in inexperience." and that his "tentativeness seem like utter bewilderment. There are times when he's onstage that he looks as though he'd like to call a timeout and get a pep talk from an acting coach."
CubaGoodingJr.com publisher comments: The Trip to Bountiful is scheduled to run for 14 weeks at the Stephen Sondheim Theatre. Does ANYONE think this play will run for 14 weeks? If it does, I SERIOUSLY doubt Cuba's mouth will let him keep a job for 14 weeks.
Let's start an over/under bet as to when Cuba will leave the cast. Let's pick May 1 as the date. I pick the under.
Let's start an over/under bet as to when Cuba will publicly apologize to the cast for some stupid behavior (to be determined). Let's pick December 31. I pick the over... as in never.
Good luck Cuba. This is probably your last acting job. Am I wrong?
March 2013 Update
Cuba Gooding Jr. Introduced Himself as 'Dick McWilly' at a Party, Told a Lady He'd Had Sex with a Leprechaun
Caity Weaver | Gawker
Flirting with strangers is nerve-wracking. You don't want your flirts to come across as boring, but walking the tightrope between "intriguing" and "crazy" can be perilous. Even seasoned pros occasionally skew toward the latter. Take Cuba Gooding, Jr., for example. On Monday, he told a lady at a party that his name was Dick McWilly AND that he'd just gotten out of jail AND that he'd had sex with a leprechaun.
A stronger opening might have been "I am Cuba Gooding Jr. and I am famous."
If you ever have the misfortune to tell a person at a party that you've had sex with a leprechaun (maybe it sounded funny in your head?), the best way to mitigate the damage is to cringe and say, "Uh, that was supposed to be a joke. It sounds bad out loud. I'm sorry."
According to Page Six, Cuba Gooding, Jr. took another tactic: he really doubled down on his leprechaun thing.
Cuba Gooding, Jr. reportedly informed the woman (who was, no doubt, laughing quite nervously by this point) that the leprechaun with whom he'd had sex had sex with an alligator and that the (male) alligator had gotten pregnant. Then Cuba Gooding, Jr. said "No, I'm lying, the alligator wasn't pregnant." (Too late! Too late for the joke bit!)
Page Six writes that at ANOTHER party the same night - this one sponsored by a make-up company—Cuba Gooding Jr. told a fellow guest he was "drinking ant piss." Then he demonstrated how to milk an ant.
Beginning at the end of March, Gooding will appear on Broadway opposite Vanessa Williams in the play "The Trip to Bountiful". He recently compared the show to a sandwich.
CubaGoodingJr.com editor: The play opens April 23 on Broadway. With Cuba in a production like this, one has to ask silly questions like...
Will the play open? - I don't know the Broadway business but with Cuba as a cast member, his history would suggest the odds are lower for this play to open than others with a cast with Broadway experience and a bit more sanity.
How long will it run? - First it has to have an opening night. Then we can read the reviews, in particular those for Cuba's performance. As above, the odds are lower of this play being a success because Cuba is in it.
Will Cuba be any good live? - Hmmm. If you watch any of the videos below, you'll have to wonder. I have low expectations so I probably won't be disappointed.
When will he do something stupid to embarrass the cast members? - Recently he has a strong record of doing stupid things to embarrass his cast mates so, odds are in favor of some bad behavior.
Will he redeem himself? - And the magic 8 ball says... Don't count on it.
Is this the LAST big performance for Cuba Gooding Jr.? - And the magic 8 ball says... Signs point to yes.
---
July 31, 2012
Cuba Good(Drink)ing Jr. "strikes" again
(my title but original title is "Cuba Gooding Jr. is being sought by New Orleans police for allegedly shoving a bartender") by Corky Siemaszko of New York Daily News.
Actor Cuba Gooding Jr. is in another legal flap just a few months after being accused of groping women in a New Mexico bar.
Show me the warrant!
Actor Cuba Gooding Jr. is a being sought by police in New Orleans for allegedly shoving a female Bourbon Street bartender early Tuesday morning.
Gooding, who won an Oscar playing Rod Tidwell, the "Show me the money" football player in "Jerry Maguire," was with his posse at The Olde Absinthe House when he flipped out on some tourists trying to take his picture, police said.
"Gooding soon became very aggravated with them," the New Orleans police said in a statement.
The bartender came over and asked Gooding to "calm down," but the actor "pushed her away with an open hand."
At that point, one of the bartender's co-workers called 911.
When the unidentified bartender told Gooding the cops were coming, he "allegedly pushed her again, and left the bar," the release states.
The arrest warrant for the 44-year-old Bronx native is for municipal battery.
Gooding is in New Orleans to film "The Butler" with Oprah Winfrey, according to TMZ.com, which first broke the story.
A married father of two, Gooding was accused in March of groping women at a New Mexico bar. He dismissed the allegations as "b------t."
END
This guy is going to hurt himself or WORSE hurt someone else because of his drinking. His name here at CubaGoodingJr.com is now officially Cuba Good(Drink)ing Jr..
Idiot! Great way to piss away what is left of your career.
Update August 1, 2012
Now Cuba Good(Drink)ing Jr. has lawyered up just like OJ Simpson and Tiger Woods. Instead of being a man and reporting to the police he has to get a lawyer for this? What an ass.
This line from the article is interesting "The bartender allegedly told Gooding the police were on the way and he needed to leave. Police said Gooding then pushed her again and left the bar."
Does this mean she was telling him to leave or suggesting that he leaves in order to avoid the police? Either way it is just a different phase of Cuba being an ass.
Oprah should have known not to work with this idiot and now her movie is tarnished just like the Red Tails movie opening.
Yay Cuba. You are a real role model.
Update #2 for August 1, 2012
Cuba's lawyer is saying this is a "misunderstanding" but Cuba has been served a summons to appear in court. I guess the judge will resolve the "misunderstanding".
With witnesses, cell phone photos and cell phone videos, I think the judge will have the evidence he or she needs to resolve the "misunderstanding" about how Cuba "allegedly" shoved a female bartender TWICE.
Maybe he will defend himself saying that he was just trying to grab her boobs, TWICE. See you in court you drunken loser.
May 10, 2012
Maybe it's time to start calling Cuba Gooding Jr., Cuba Good(Drink)ing Jr.
Rick Egusquiza from the National Enquirer titled his article about Cuba "BOOZE SOAKED CUBA OUTTA CONTROL!" and started the article with this: CUBA GOODING JR. has been on a booze-fueled, week-long tear through Manhattan, sparking fears that he des­perately needs a trip to rehab.
Yet another dumb move (again) by someone who's movie... I mean television career is on fire
April 19, 2012
Yet again the attention whore Cuba Gooding Jr. just can't restrain himself in front of an audience or a camera.
Please tell me why ANY producer would want this idiot promoting his/her work.
On Good Morning America Cuba is in a frenzied state of mind (natural or drug induced?) grabs somebody's kid from the audience and just starts throwing him up in the air without warning OR permission.
Will the next post here be "Cuba Gooding Jr. found dead"? Is he having a mental break down? Will he take himself out in a blaze of glory for that one last burst of media attention? Will anyone even care? If so, let's hope he doesn't injure anyone else.
March 12, 2012
Women Claim Cuba Gooding Jr Gropped Them in a Bar
Gossip site Jezebel is reporting, with photos, that he allegedly groped two women but he would later deny it to TMZ.
"At about midnight on March 1st, Cuba Gooding Jr. waltzed into the bar we were at and proceeded to sexually harass a number of the [women there] and assault (punch) a [man] for attempting to take a picture of Cuba receiving a lap dance. [...] The sexual harassment occurred when women would be taking pictures with him; he would grab butt cheeks during the picture taking and when women reacted negatively to that, he would proceed to either touch women's breasts or tell them that he "loved them."
January 30, 2012
Cuba Gooding Jr. late to TV interview
You just can't make this stuff up. Once again Cuba Gooding Jr is an embarrassment to his fellow actors and Producer of Red Tails. He blames New York traffic for being late to this Fox and Friends interview. Right... who would ever expect there to be any traffic in New York City. IDIOT!!!
video removed
Is Cuba Gooding Jr retarded or does he have a serious drug or alcohol problem?
January 21, 2012
The New Yorker Magazine's Jada Yuan writes about Cuba Gooding Jr's unwelcome appearance on stage with Aziz Ansari with the title "Only Cuba Gooding Jr. Could Save Aziz Ansari's Sundance Stand-Up Show" but I think a more appropriate title would be "Is Cuba Gooding Jr Retarded or How Bad is his Drug Problem?"
Unfortunately this is not a joke unlike Cuba Gooding Jr's career. Cuba Gooding Jr must have a drug problem or a mental deficiency of some sort. There is the drunk-in-the-bar video (posted below) then his stupid whale watch Superbowl commercial then his "rock out with your cock out NOT FUNNY improv and now this from the article:
"Suddenly, an Ansari supporter jumped onstage and grabbed the mike. It was Cuba Gooding Jr. "Hey, hey, yo! Cuba Gooding!" said Cuba Gooding Jr. "Shut the f*ck up! Shut the f*ck up! We got Aziz here, motherf*cker. He's trying to make us laugh with his cock out, motherf*cker. Shut up and let him do his shit."
Ansari smiled, and replied, calmly. "I really don't care that much, Cuba Gooding Jr., but thank you very much."
Gooding: "Black people, we gotta stick together, Aziz."
Ansari: "That's right, Cuba Gooding Jr. Cedric the Entertainer will be up here making different points as well."
Gooding: "NOW the motherf*cker's funny!"
1. Who asked Cuba Gooding Jr to pull a "Kanye West" interruption?
2. What kind of ego does Cuba Gooding Jr have to think he can and should "save" a comedian's act?
3. Cuba Gooding Jr thinks that telling the audience to "shut the f*ck up" is a good opening line?
4. Apparently Cuba Gooding Jr thinks that Ansari is black? Aziz Ansari is Indian.
So, in what seems to be about one minute of time, these are the words used by Cuba Gooding Jr...
f*ck, f*ck, motherf*cker, c*ck, motherf*cker, sh*t, motherf*cker. Nice job Cuba. You are really making your co-stars and Producer of Red Tails glad to have you promoting the movie! Not exactly something Men of Honor would say. Maybe Cuba Gooding Jr should go on a one way Boat Trip.